What is Hydrodermabrasion?
Combining the efficiency and efficacy of conventional microdermabrasion with specialised product penetration and an advanced form of exfoliation, Hydrodermabrasion sets the bar when it comes to results driven exfoliation services! 
We choose HydroLUX for our treatments as it provides unparalleled power, exfoliation, product infusion and versatility for Hydrodermabrasion. 
Next generation exfoliation 
As microdermabrasion has now become a staple in the skin care industry, our HydroLUX treatments combine this tried-and-true exfoliation technology with ultra-hydrating fluids that penetrate deep into your skin, leaving it plumped, hydrated and youthful. 
Our treatments will work to:
Instantly revitalise and nourish tired, dehydrated skin
Diminish the appearance of fine lines and wrinkles and plump up complexions
Treat and reduce congestion and acne plus improve acne scarring
Minimise the appearance of large pores and refine thickened skin
Improve the appearance of pigmentation and sun damaged skin
Thoroughly exfoliate dead skin cells and promote new collagen and elastin production
How do treatments with HydroLUX work?
In order to help you achieve your skin goals, your clinician will select specific treatment solutions that are tailored to meet your skin's needs. 
During your treatment, our trained staff will gently yet effectively exfoliate your skin to reveal a fresh, vibrant complexion. The HydroLUX handpiece buffs away dead skin cells using a diamond exfoliation disk chosen to match your individual skin needs.
The skin is then infused with treatment solutions that are completely customised to address your specific skin concerns.
Are HydroLUX treatments suitable for me?
Our treatments are suitable for all skin types and can be customised to treat a broad range of treatment concerns on the face and body. From your treatment area, level of exfoliation and type of solution, HydroLUX treatments are completely catered to helping you achieve your desired results. From fine lines and wrinkles to pigmentation, redness to acne your clinician can utilise multiple solutions in your treatment for a skin service designed specifically for you and your skin concerns.
Are treatments painful and are there any side effects?
More gentle than conventional microdermabrasion, this service is safe and non-invasive. Treatments are not just comfortable but relaxing, with no side effects or post-treatment downtime so you can resume your daily activities immediately after your Hydrodermabrasion treatment.
How long does the treatment take? 
Depending on your personal requirements, an average treatment can take between 30-60 minutes. We recommend a 60-minute treatment to allow for maximum results.
How many treatments before I can see results? 
Our clients enjoy immediate and visible results after a single treatment. 
Depending on the treatment area and your skin's tolerance, treatments can be delivered weekly or up to every 8 weeks. Committing to a series of 6-8 treatments is recommended to achieve the best possible outcome.  Your clinician will provide further guidance based on your skin goals during your consultation.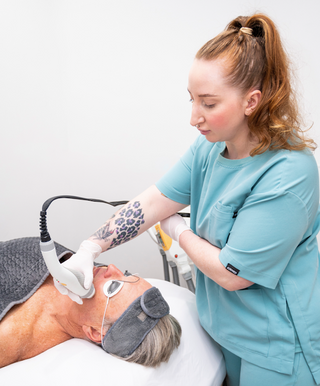 Book an appointment
we would love to welcome you into space for your next appointment. click the button below and it will take you through to our timely booking systemn.